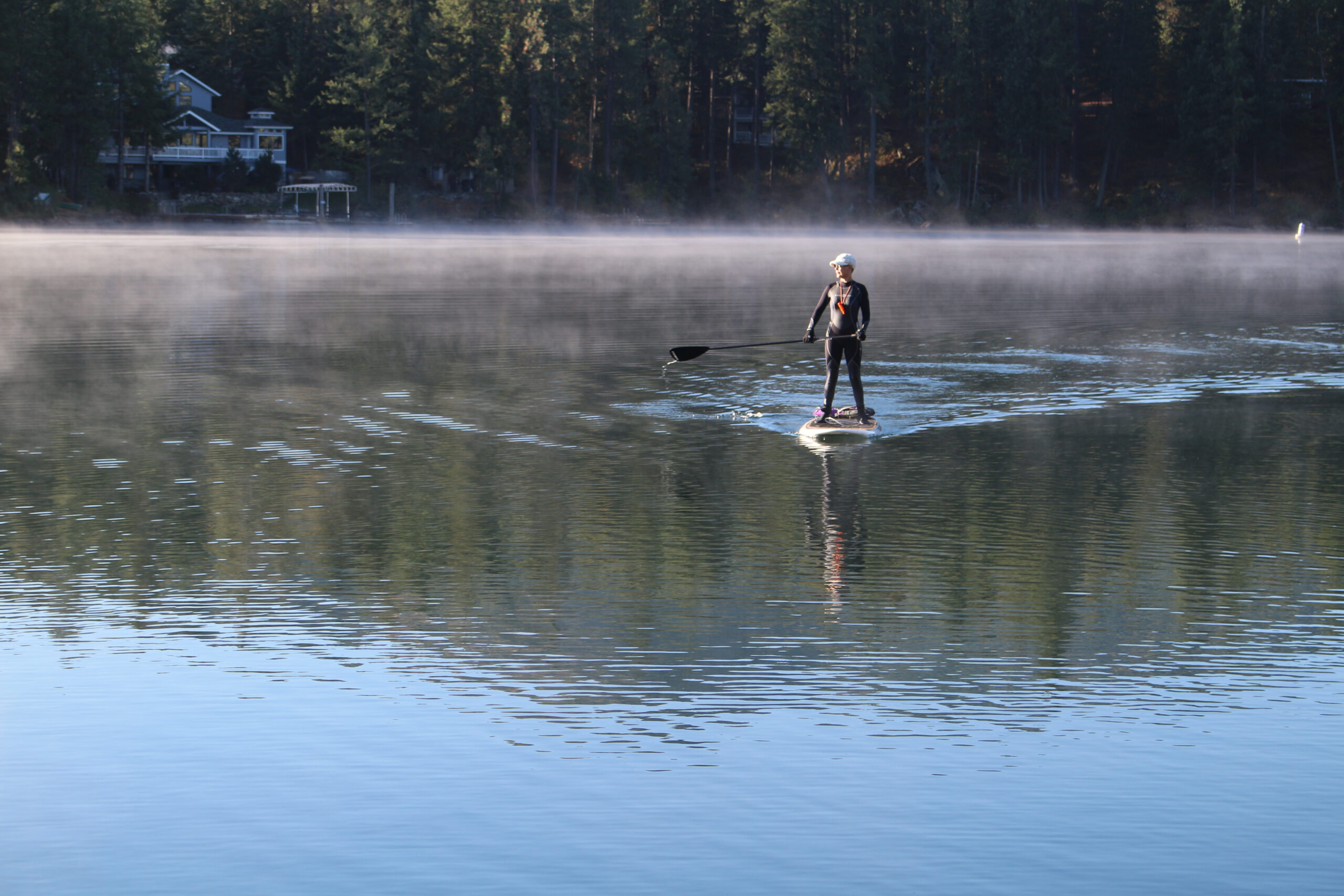 It all began one lovely October day on Kauai, 2011. Seated on rattan chaises my husband and I absorbed tropical beauty sipping a crisp Sauvignon Blanc. The sea sparkled, the profusion of color and scent tantalized senses. John picked up his book, but three stories below tanned swimsuit clad young people caught my attention as they carried oversized surf boards into the pool. This was no ordinary pool. Lagoon styled, it widened and narrowed as it meandered long and luxurious past waterfalls, lush foliage, and opened into large pond sized pools, before curving further through the property. Three men and two women gathered near the pool and listened then observed how to ride a SUP (standup paddleboard). All took a paddle and waded to their respective boards. Then the fun began. None stayed vertical for long. I giggled as they splashed haphazardly into the pool. Two ultimately managed to navigate the manmade waterway start to finish.
"I could do that." I said to John, who looked up with a 'Mmmmm,' glanced at the activity in the pool, then back to his book.
We hiked, dined, swam, walked the beaches of our beloved island and headed home to our world on the river. All winter I watched the water, imagining me on it on a SUP. In March I began researching boards. I contacted those I knew who were surfers and got opinions. I looked at design, structure, materials, made a choice and found a local vendor. Good SUPs are not inexpensive. This was a good one.
"I'm ready to get my SUP," I told John one day in April. He looked at me blankly. "You know, the boards we saw in the lesson on Kauai. Standup paddleboards – in the pool? Remember?"
"Well, yeah, sort of," he responded.
"I know which one I want. There's a shop here in CDA (Coeur d'Alene) that has one."
"Don't you want to rent one first and see if you like it?"
"Oh, I'll like it," I grinned. "I'm a Pisces, remember? Water girl."
"But maybe rent one, say for a week, bring it here, try it out … make sure it's what you want. That would be a good idea, don't you think?" He tried again.
"Nope, I'm good. I'm going to love it. Plus, I know which one I want. I've done my homework. A Pau Hana. 10 feet long, 24 inches across, teak inlay – it's going to be perfect for me."
He gamely came along as I purchased my board, delivery scheduled later that afternoon. While waiting, I got online and watched a four minute you tube video about maneuvering a board.
That afternoon I outfitted the board with safety devices, leash, life vest, whistle and carried it to the water. John watched. On my knees first, I navigated our little cove – turning, backing up, lifting the board in and out of water. Piece of cake. Now, stand. John watched. I stood. Kind of like getting sea legs, I thought as I felt the water under the board. I paddled out past the dock and headed upriver very near the shore, just in case. I was a little wobbly, and it didn't take long for my legs to be trembly from the isometric need for balance, but I was SUP'ing. I went up six houses, then home. Amazing!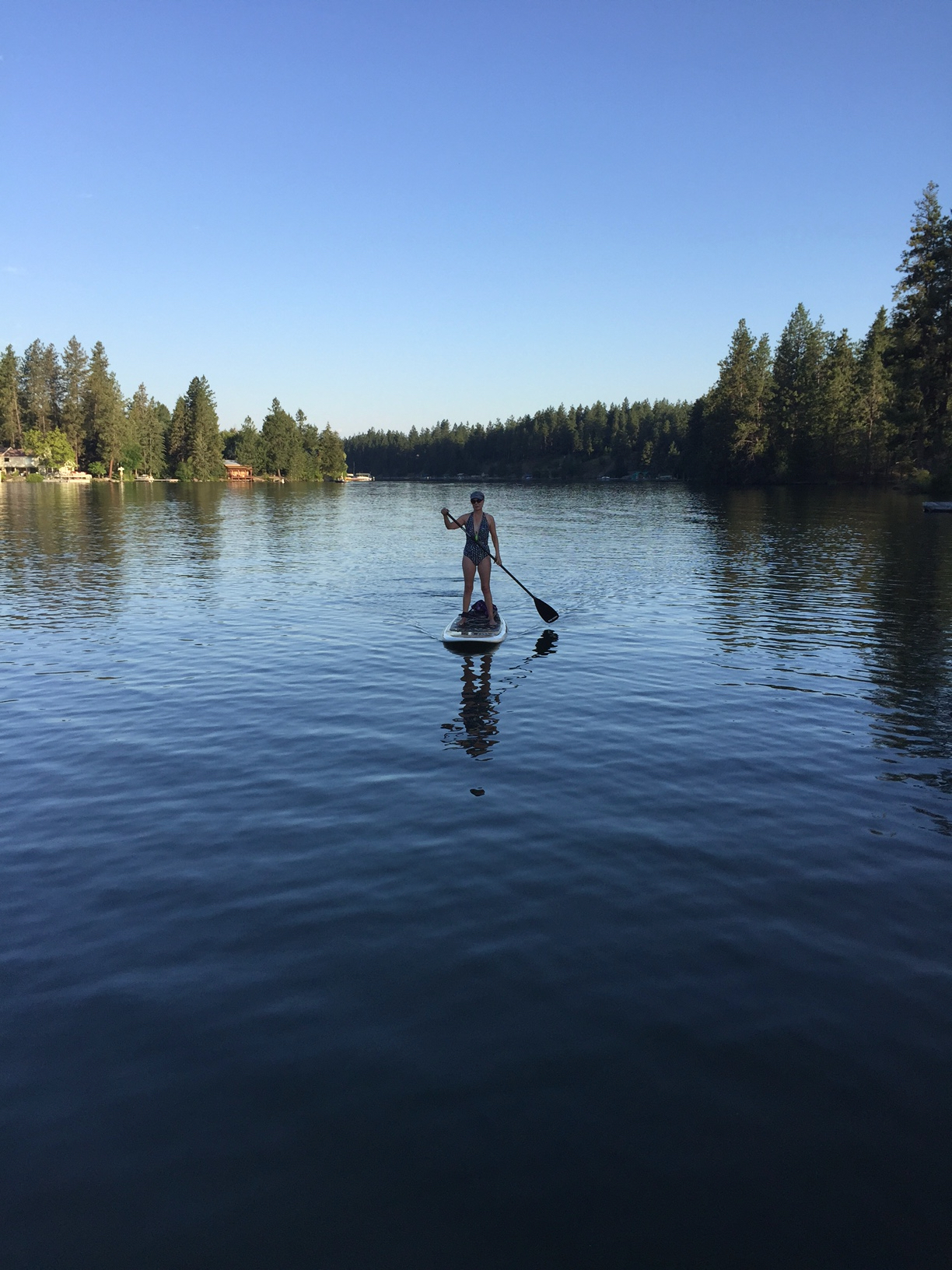 The next morning I was stiff and sore everywhere. What an incredible use of muscles all over a body. I couldn't wait to get back out there. I suited up, called up to John – "I'm out!" a phrase I repeated daily every season thereafter.
I hadn't counted on the overall body workout. I hadn't imagined the sheer bliss of the quietude of the river at dawn. I couldn't have known the incredible sense of being at one with the universe. All this I learned in that first season. Then I included my grandchildren. Initially I had them sit at my feet on my board and I ferried them. Later we got them their own boards. When they would spend the night, our oldest would slip into our bedroom before dawn and say, "Nonna! The river's glass."
We'd rise, dress for the river and watch the sun rise together from the water.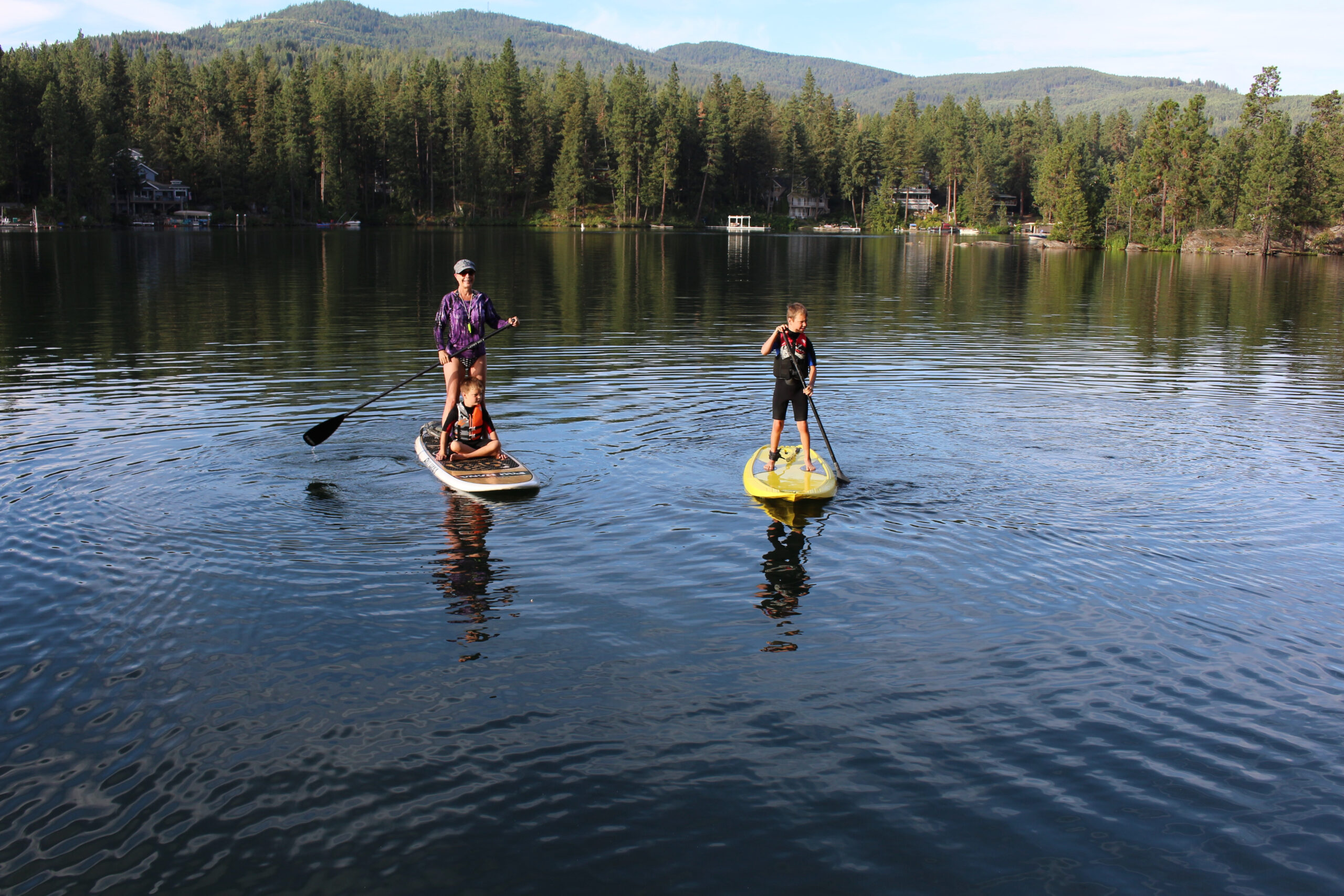 After my injury last year, having been bed bound for months, I wondered how I would do with my new reality; severely impaired vision, and muscles that hadn't done a lick of work for seven months. I carried my 24 pound board into the water, got on hands and knees upon it, then stood. I was shaky and scared, quite frankly. I closed my eyes. "Feel the water, Laura," I told myself. "Just feel it. Find it." My heart stopped racing, my limbs loosened, and I opened my eyes. Physically I was capable of only 10 minutes, but in that wrinkle in time the skylights of my soul opened wide. I tipped my head back and laughed.
It took a little time but I worked up to three hours on the water each day. If I missed a day, it was for weather. Two hours in the morning, an hour in the late afternoon. Glorious. My strength, energy, and equilibrium returned as I felt the river within me.
On the water, yesterday slips away, tomorrow is unseen around the bend, and in this perfect moment, I am whole.
I hope that every one of you finds something that slows you down, opens you up, lifts you high, lightens your heart, feeds your soul and brings you joy.